US giant Walmart set to buy Flipkart, expand retail map
US giant Walmart set to buy Flipkart, expand retail map
US-based retail major Walmart Inc is close to sealing a deal wherein it could pick up anywhere between 60 and 80 percent stake in Indian e-commerce market leader Flipkart in a transaction that could value the Bangalore-based online retailer at an estimated $15-20 billion. The deal, which is learned to be in its final stages, would mark the largest investments in the country's e-commerce sector and would make India the biggest emerging market where three of the largest global retailers, Walmart, Amazon and China's Alibaba, would be pitted against each other.
For Walmart, which has so far failed to make big inroads into markets outside the US, the deal could come as an opportunity to allocate resources in one of the fastest growing e-commerce markets in the world and also expand its retail operations in the country that have hitherto been restricted to the cash and carry segment.
Analysts predict that Walmart could also leverage its logistics, supply chain and retail sourcing experience to improve Flipkart's operations for the company to compete better against its rival Amazon India.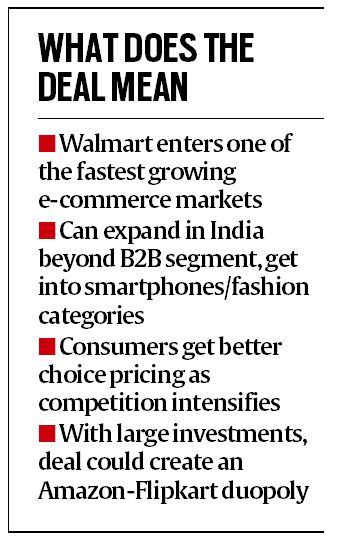 Notably, Amazon was also understood to have placed a bid to acquire 60 per stake in Flipkart while seeking a non-compete from Flipkart founders Sachin Bansal and Binny Bansal, both of whom are former Amazon employees. Both Flipkart and Amazon are currently neck and neck in the Indian e-commerce market with both companies having strengths in certain segments.
According to sources, this deal could see the exit of some of Flipkart's investors such as Japan's Softbank and US-based Tiger Global while some of the other investors could see their shares in the company getting pared.
However, it could not be ascertained whether the boards of two companies have formally cleared the proposal. The deal could also see Google's parent company Alphabet Inc picking a small stake in Flipkart.
Ahead of the deal's announcement, Flipkart has bought back over 1.8 million shares worth more than $350 million from minority investors valuing the company at $17.69 billion, as per information filed by Flipkart with Singapore's Accounting and Corporate Regulatory Authority.
The data was sourced by data intelligence platform Paper.vc, which claimed that the move will convert Flipkart into a private company under Singapore law, thus reducing its compliance requirements.
The deal, if it goes through, could need regulatory clearances in India, including from the Competition Commission of India. "Walmart has got incredible strength in almost all aspects of retail operations starting from sourcing, supply chain, private labels and, of course, core management strengths. While they face an incredible amount of challenges and setbacks in other markets outside the US, India is one of those markets where you don't have large local players yet in retail. To that extent, Walmart can allocate a lot of energy to improve the operations of Flipkart in India by way of looking into very basics, whether it is merchandising, sourcing, logistics and supply chain and also introduce their private labels through the Flipkart platform," Arvind Singhal, chairman and managing director of research firm Technopak told.
Acquisition of a majority stake by Walmart could also allow Flipkart to take its focus off the exercise of raising funds from the market, something that it has had to do almost every year since 2009. "Flipkart can now focus better on its operations rather than worrying about where the funds will come from," Satish Meena, Senior Forecast Analyst, Forrester Research said, adding that the intense competition between Flipkart and Amazon could be a big positive for consumers who could see improvement in choices and pricing.